If I could choose a single product that the skincare world is obsessed with right now, it's sunscreen. And for a good reason – a quality sunscreen will lend your skin much-needed protection from UV rays that cause hyperpigmentation, premature wrinkles, and more.
I've tried many Japanese and Korean sunscreens, but for me, one really takes the cake: Shiseido Anessa Perfect UV Sunscreen Skincare Milk. I've repurchased so many bottles of this that I've lost count! It has a formula I know I can rely on to protect my skin all year round.
Daily sunscreen has been a skincare habit of mine for years. I mean, here's my skincare routine from 2015 that includes a daily sunscreen in it! it's a must-have skincare step if you use a prescription retinoid or retinol! And really, it's a must-have regardless. Here's why this Japanese sunscreen has been a rebuy of mine of years and years and years!
Shiseido Anessa Perfect UV Sunscreen Review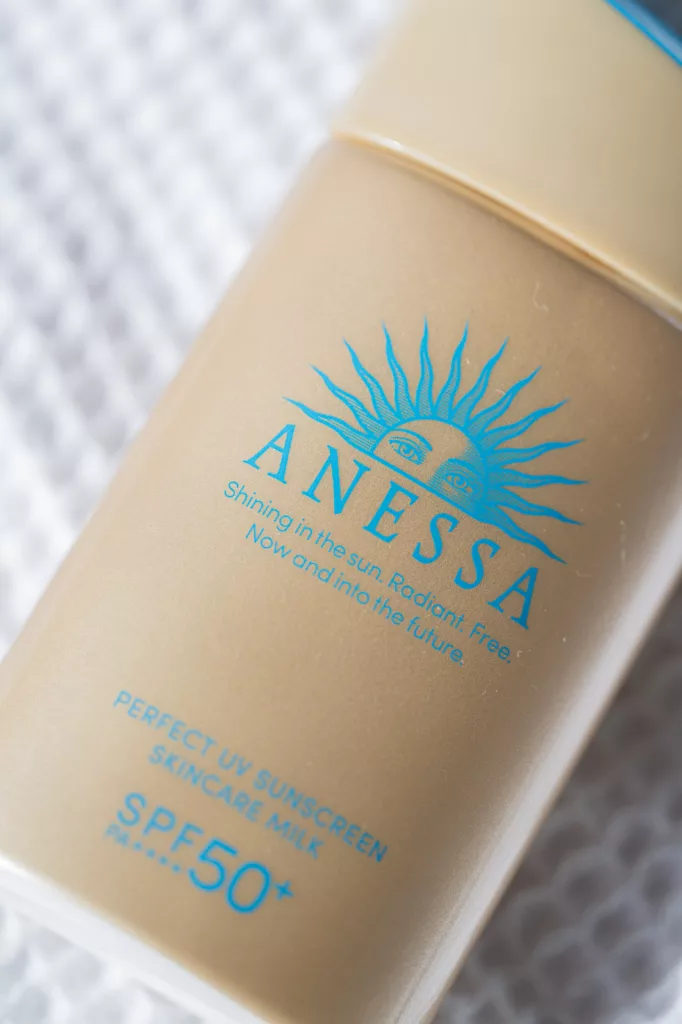 This Japanese sunscreen is formulated as part of Shiseido's drugstore line called Shiseido Anessa. As someone who has oily skin, the number one reason I keep coming back to this particular facial sunscreen is the finish.
It dries to a matte finish and doesn't leave my skin feeling greasy or slimy after a few hours. Shininess and stickiness are problems I have with the current Biore Aqua Rich formula. So gross!
It also has a light, milky texture. I find it really easy to apply the correct amount of sunscreen for my face and neck with this Shiseido Anessa sunscreen – I apply approximately 3 finger-lengths worth, and that's perfect for my face and neck.
The thin, silicone-based texture of Shiseido Anessa Perfect UV Sunscreen makes it perfect for a two-in-one step of protecting skin and priming it for makeup. I've found most foundations do pretty well over this Japanese sunscreen. However, it will always perform best with a silicone-based foundation.
I love the finish and how long it lasts on my skin – but there's no denying this is in the pricier range as far as Asian sunscreens go. Depending on where you buy it, I've seen this range from around USD $29-35. For comparison, Biore UV Aqua Rich Watery Essence goes for closer to USD $14-17.
However, I still think the Shiseido Anessa Perfect Milk is worth every dollar. The long-lasting formula doesn't wear off quickly and works so well for oily skin, making it a real winner for me!
Finally, the high coverage of this sunscreen is what draws me to it. It has a very high SPF rating of 50, and also a high PA rating. This means it protects skin well against UV rays that cause cosmetic issues such as pigmentation and potential health issues such as skin cancer.
Here's the full ingredient list of Shiseido Anessa UV Perfect Milk SPF50:
Dimethicone, Water (Aqua), Zinc Oxide (10.35%), Alcohol, Talc, Isododecane, Diisopropyl Sebacate, Octocrylene (5%), Ethylhexyl Salicylate (4.9%), C12-15 Alkyl Benzoate, PEG/​PPG-9/​2 Dimethyl Ether, Zea Mays (Corn) Starch, Silica, Isopropyl Myristate, Diethylamino Hydroxybenzoyl Hexyl Benzoate (1.8%), Titanium Dioxide, PEG-9 Polydimethylsiloxyethyl Dimethicone, Dextrin Palmitate, Glycerin, Homosalate (1%), Ethylhexyl Triazone (0.8%), Polysilicone-15 (0.5%), Bis-Ethylhexyloxyphenol Methoxyphenyl Triazine (0.5%), PEG-10 Dimethicone, Isostearic Acid, Triethoxycaprylylsilane, Disteardimonium Hectorite, Aluminum Hydroxide, Stearic Acid, Trisodium EDTA, Sodium Chloride, PEG-6, Fragrance (Parfum), Tocopherol, BHT, Butylene Glycol, Sodium Metabisulfite, PEG/​PPG-14/​7 Dimethyl Ether, Saccharide Isomerate, Dipotassium Glycyrrhizate, Camellia Sinensis Leaf Extract, Potentilla Erecta Root Extract, Citric Acid, Sodium Citrate, Sodium Acetylated Hyaluronate, Synthetic Fluorphlogopite, Triethoxysilylethyl Polydimethylsiloxyethyl Dimethicone, Soluble Collagen, Phenoxyethanol
Drawbacks of Shiseido Anessa UV Perfect Sunscreen
This is a combination sunscreen, so it has both chemical and mineral filters. Shiseido Anessa Perfect UV Skincare Milk does have a small amount of white cast on my skin tone – at least at first.
My foundation matches include MAC NC25 and NARS Punjab, so I have light-medium skin. The white cast eventually disappears, but it might still be visible on your skin if you have a deeper skin tone.
Another possible drawback of this sunscreen is the alcohol in the formula. There's nothing inherently bad or wrong about alcohol in sunscreen. However, some people prefer their sunscreen without this skincare ingredient. I would say that this formula can be drying for those with normal to dry skin.
There is an alcohol-free version of this sunscreen called Shiseido Anessa UV Mild Milk. This version is meant to be safe and gentle enough for even children's skin, so if you have more sensitive skin, it's worth giving the Mild version a try.
Another possible drawback is the fact that you really need to remove this sunscreen by double-cleansing. The waterproof formula is SO long-lasting that a regular cleanser just isn't going to cut it. You'll feel a film over your skin if you try using a normal cleanser with this – so double-cleansing is a must.
Why Shiseido Anessa UV Perfect Milk is My Holy Grail
I mean, I've spent a fair chunk of change on repurchasing this sunscreen! To sum it up, the reasons that I'll keep rebuying this sunscreen are:
Matte finish that's perfect for my oily skin
Easy to apply
Long-lasting formula
Wears well under makeup
No lingering white cast on my skin
High levels of sun protection
This sunscreen is ideal if you want something that matches all of the above! This Shiseido Anessa sunscreen is absolutely my recommendation if you have combination or oily skin and want sunscreen that stops your face from feeling greasy and shiny. The long-wearing formula is ideal alone or under makeup for preventing those UV rays from causing any long-term damage.
Let me know if you've tried this sunscreen before!