Hi girls!
First of all, sorry for my absence. Uni finished some time ago and I foolishly thought I would have more time for polish – unfortunately my schedule doesn't work that way. Having holidays means having a more random schedule so it's harder to fit in polish, so I might have a couple more absences to come. I'm sorry – things will get back to normal in about a month. For the next couple weeks I'll be posting from Singapore, as I'm here visiting my parents 🙂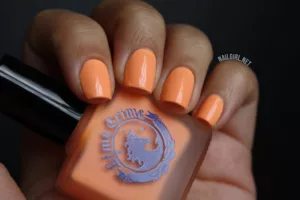 Peaches <3 Cream is an AMAZING pastel-nearly-neon orange. It applied VERY easily, shown is 2 coats. It dries to a satiny finish, which can be made shiny if you like with some TC.
Have you tried any of the Lime Crime polishes yet?
– Lexie 🙂