Thayer's Witch Hazel Rose Petal Toner was a staple in my skincare routine for years – while I took a break from it when it was harder to find overseas, I was so stoked to see it available at Chemist Warehouse for much cheaper than I used to pay for it!
Here's my updated Thayer's Witch Hazel Toner review, plus my best skincare hacks for adding this product to your skincare routine.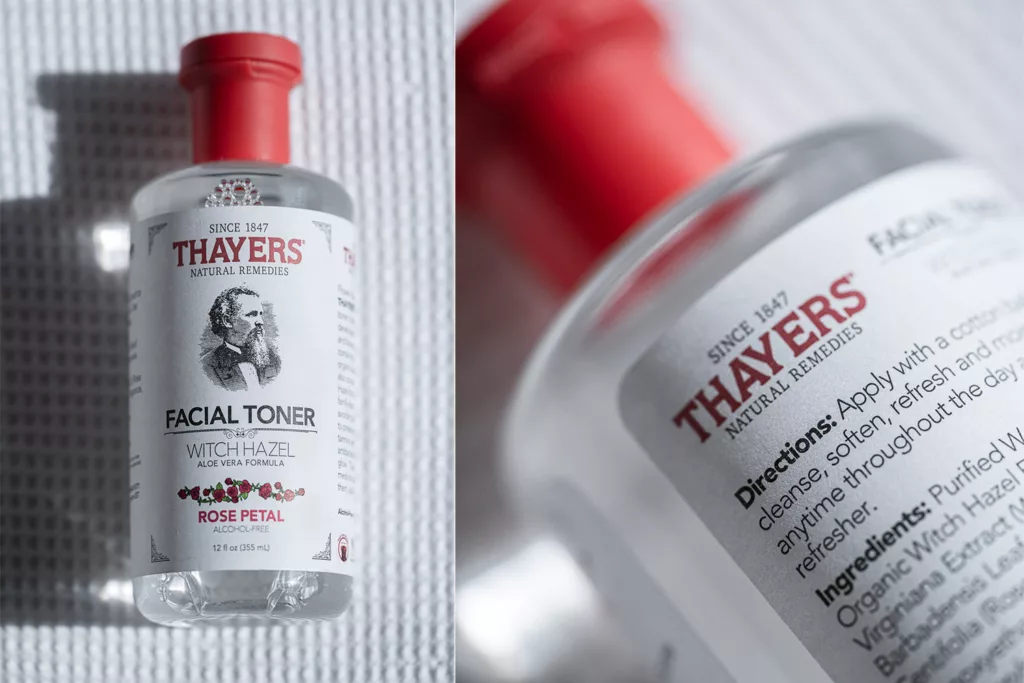 What are the Benefits of Thayer's Witch Hazel?
Witch hazel is a skincare ingredient usually recommended for oily/combination skin. It has an astringent effect on the skin, which means that it can reduce the appearance of pores. However, that's not the only benefit of witch hazel for skin.
It also reduces inflammation and calms irritation, which I found incredibly helpful for dealing with my breakouts. It was one of the best toners I could have used in my skincare routine alongside a retinoid to fight acne – and that's exactly the situation that I would recommend using this for! Here are the star ingredients in this toner.
Thayer's Rose Petal Witch Hazel Toner Ingredients
Purified Water, Aloe Barbadensis Leaf Juice (Certified Organic Filet Of Aloe Vera), Glycerin (Vegetable), Fragrance (Natural Rose), Hamamelis Virginiana Extract (made from Certified Organic Witch Hazel), Rosa Centifolia (Rose) Flower Water, Citric Acid, Citrus Grandis (Grapefruit) Seed Extract
Since the formula is alcohol-free, Thayer's Witch Hazel never left my skin feeling dry or irritated. I think it's worth trying this toner, even if you have a normal or dry skin type. It has always left my skin feeling hydrated and soft, and visibly much less red. Plus, the rose petal version – the one I prefer – always leaves my skin smelling and feeling good. 
It's also cruelty-free. While this is not one of the first things I look for in a skincare product, I know that it's something that matters to many people!
So, how did I use this product in my skincare routine? Here are the top four ways you can make use of this hydrating formula anytime throughout the day. 
How to Use Thayer's Witch Hazel Toner
There are a few different ways to use this toner – not just for swiping on your skin after cleansing! I've rounded up my best skincare tips for getting the most out of this amazing skincare product.
1) After Cleansing
Starting with the most simple use for toner, using it after cleansing. Swiping a cotton pad soaked with Thayer's Witch Hazel all over your face and neck is one of the best ways to give your skin a little hydration boost, as well as make sure no lingering makeup particles are hanging around on your skin.
I always like to pay a little closer attention to my hairline when I'm using this toner. As thorough as I try to be when rinsing away my cleanser, I know that I miss some spots. Going over with a toner makes sure I still clear away any residue, reducing the likelihood of breakouts.
2) After Hair Removal
I take care of my brows by tweezing them into shape, and when I'm tidying them up at home, I like to go over them with witch hazel. This reduces the visible redness and irritation from plucking. I've also found it reduces the chances of ingrowns and eyebrow zits – I don't know if it's just my skin, but no matter how careful I am, I get breakouts in my eyebrows from time to time.
3) As a Mask
This tip seriously saved my skin, especially at the peak of my breakouts. To do this, I split apart the layers of a cotton round, soak it with witch hazel, and then let it sit on the area for 15-20 minutes. I've found that most cotton rounds split into about 3-4 layers – this gives me enough sheets for both cheeks, forehead, and chin to tackle any redness from acne.
On my skin, this does MIRACULOUS things to angry pimples! It temporarily takes away the visible redness from breakouts, soothing the inflammation for calm, hydrated skin.
4) As a Facial Mist
Another fantastic use for Thayer's Witch Hazel is as a refreshing/setting spray! It works amazingly well for reducing the cake factor that makeup can sometimes lend, and I've already been using it as a general refreshing spray in this summer heat. It's also great for spritzing onto skin in between skincare steps – I've found that this is one of the best ways to layer extra hydration onto skin, reducing skin flakes and dryness.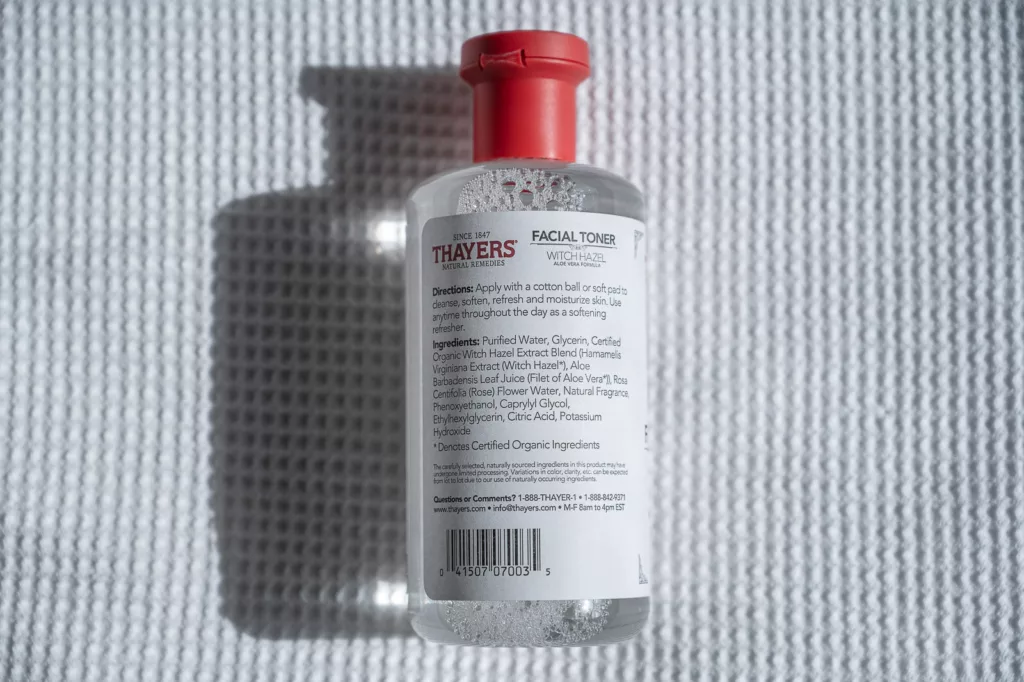 Thayer's Witch Hazel: The Final Verdict
This is a versatile, hydrating skincare product I enjoy having in my routine! When used as a toner, it gently cleanses and hydrates. If my skin is feeling irritated and visibly red, I can use it to soothe irritation while still giving my skin a boost. I recommend this to those with active breakouts looking for a gentle, hydrating product that soothes inflammation and boosts hydration, while minimizing the look of pores.
Have you tried any witch hazel products?