Hey everyone!
Today I've actually got a double review of sorts – not only am I reviewing this amazing CrowsToes polish, I'm reviewing my bottle of Gelous. Gelous is a product that smooths out glitter polishes under a regular TC. CrowsToes Absolum – I am your Potions Master is inspired by Alan Rickman and 2 characters he plays – Absolum from Tim Burton's Alice in Wonderland, and Severus Snape from Harry Potter. (ps. I can't be the only person who bawled her eyes out at Snape's death, right?) Absolum is FULL of gorgeous glitters: large blue glitters, medium green, blue and silver glitters, smaller silver glitters and black bar glitters.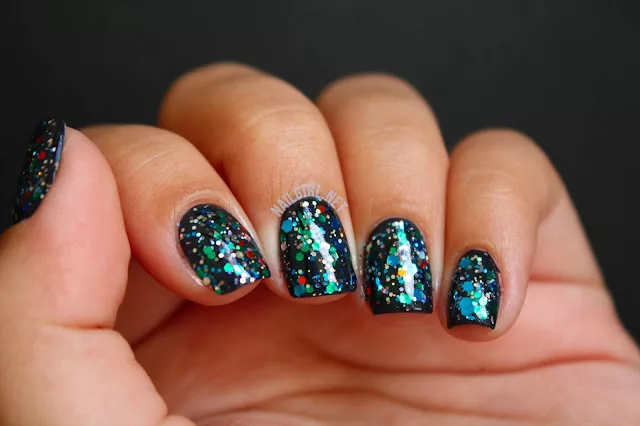 I used Essence Date in the Moonlight, which is a really gorgeous dusty navy blue with a lighter blue shimmer. It applied really well in 2 coats. I applied Absolum using the dabbing method, and shown is 2 coats. I did find that I had to poke around the bar glitters to make sure they weren't hanging off the edge of my nail, but other than that, application was fine. I applied 1 coat of Gelous before my regular topcoat to smooth it out. Gelous worked perfectly! My mani was smoothed out and not gritty at all. It is a little bumpier now that it has dried more, but it's still much smoother than if I had used 2 coats of my regular TC. I will definitely continue to use this to smooth my glitters!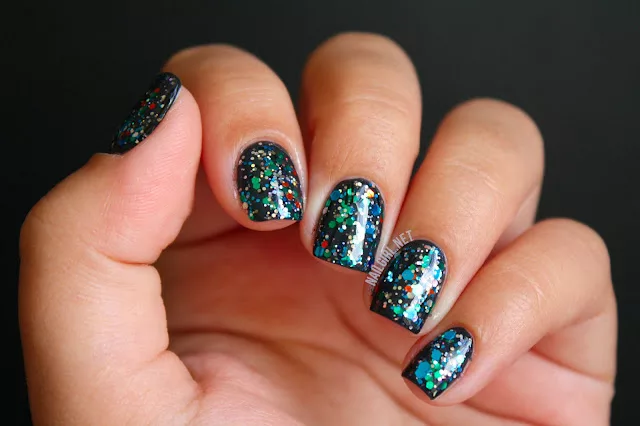 Have you tried CrowsToes polishes? What do you use to smooth glitter? Let me know in the comments below!
– Lexie 🙂